About Us
Dr. Greg and Dr. Nicole believe that everyone deserves a healthy smile with aligned teeth that function properly. At Nalchajian Orthodontics, our team provides a high standard of orthodontic care for patients of all ages. To help patients feel like a part of the family, we foster a caring and informative environment where children and adults can feel at home and learn about their dental health. At our offices, we use state-of-the-art technology and the latest advancements in the field of orthodontics to achieve optimal results.
Our Mission
We believe that excellent service should be delivered with passion and compassion. A smile is the first thing people notice, and we strive to better peoples' lives by improving their smiles and confidence. The outstanding services that Nalchajian Orthodontics provides rises beyond the average standard of care, and we are proud to be part of our patients' community and health. When you come to us for orthodontic treatment, you will be welcomed as part of our family.
Meet Our Doctors 
A native of Fresno, CA, Dr. Greg simply loves being an orthodontist. He believes that keeping patients safe, comfortable, and cared for is his calling, and he feels very privileged to treat all of his patients. Dr. Nicole has a truly remarkable passion for providing exceptional orthodontic care. She believes in promoting a fun, healthy environment for children and informing all of her patients about treatment and how to maintain proper oral health.
The History of Nalchajian Orthodontics
Dr. Greg and Dr. Nicole both grew up in California and the Nalchajian family has been in Fresno for about 70 years. Dr. Greg's dad was a dentist and his uncle was an orthodontist, which inspired him to go into orthodontics. After finishing their education and training, Drs. Greg and Nicole decided to move to Fresno to be near friends and family and were excited to treat patients in their home state. Dr. Nicole was able to work with her father at the practice before he retired, and she cherishes that experience and the knowledge that he was able to pass down to her. They are here to serve their community and profession by providing the highest standard of care.
Hear From Our Patients and Referring Doctors
Why Our Practice Is Different
1
Your Invisalign® Experts
Dr. Greg and Dr. Nicole are Top 1% Invisalign Providers. They are more experienced than most dental professionals who offer this treatment and participate in ongoing training.
2
¡Nosotros Hablamos Español!
Dr. Nicole is bilingual and speaks both English and Spanish. We're happy to make accommodations to ensure you and your family feel comfortable.
Every member of our team is passionate about caring for others. We support and guide our patients and their families through a fun and beneficial orthodontic experience.
Patients can quickly and securely submit forms online, saving you time in the office. Our registration forms are in English and Spanish for your convenience.
We believe in giving back to our community and participate in many programs to help others, from providing free braces to those in need, promoting kindness, and more.
6
American Association of Orthodontics Members
Dr. Greg and Dr. Nicole are members of the AAO, which means they are highly educated and have completed an accredited orthodontic residency program.
Meet Our Team
Our team consists of knowledgeable and trained individuals who aim to provide excellent care and service. Everyone at Nalchajian Orthodontics contributes to an uplifting and friendly environment so that our patients feel at home while in our care. If you ever have questions about treatment or simply want to chat, our team is here!
Leslie
Financial Coordinator
Heidi
Treatment Coordinator
Lucy
Treatment Coordinator
Naomi
Treatment Coordinator
Beth
Scheduling Coordinator
Jenn
Scheduling Coordinator
Roxy
Scheduling Coordinator
Tami
Scheduling Coordinator
Carina
New Patient Coordinator
Christine
Insurance Coordinator
Bailey
Registered Dental Assistant
Brittany
Registered Dental Assistant
Joy
Registered Dental Assistant
Lupe
Registered Dental Assistant
Sasha
Registered Dental Assistant
Stephanie
Registered Dental Assistant
Natalie
Registered Dental Assistant
Celia
Registered Dental Assistant
Julia
Registered Dental Assistant
Devin
Registered Dental Assistant
Courtney
Registered Dental Assistant
Amanda
Registered Dental Assistant
Julissa
Registered Dental Assistant
Our Offices
Nalchajian Orthodontics has two offices located in Fresno and Clovis, California. You can find our Fresno office on the northern side of Fresno on N Fresno St, and you can find our Clovis office on Shaw Ave just down the street from Clovis High School. Dr. Greg and Dr. Nicole look forward to caring for you and your loved ones and to helping all of our patients smile with pride!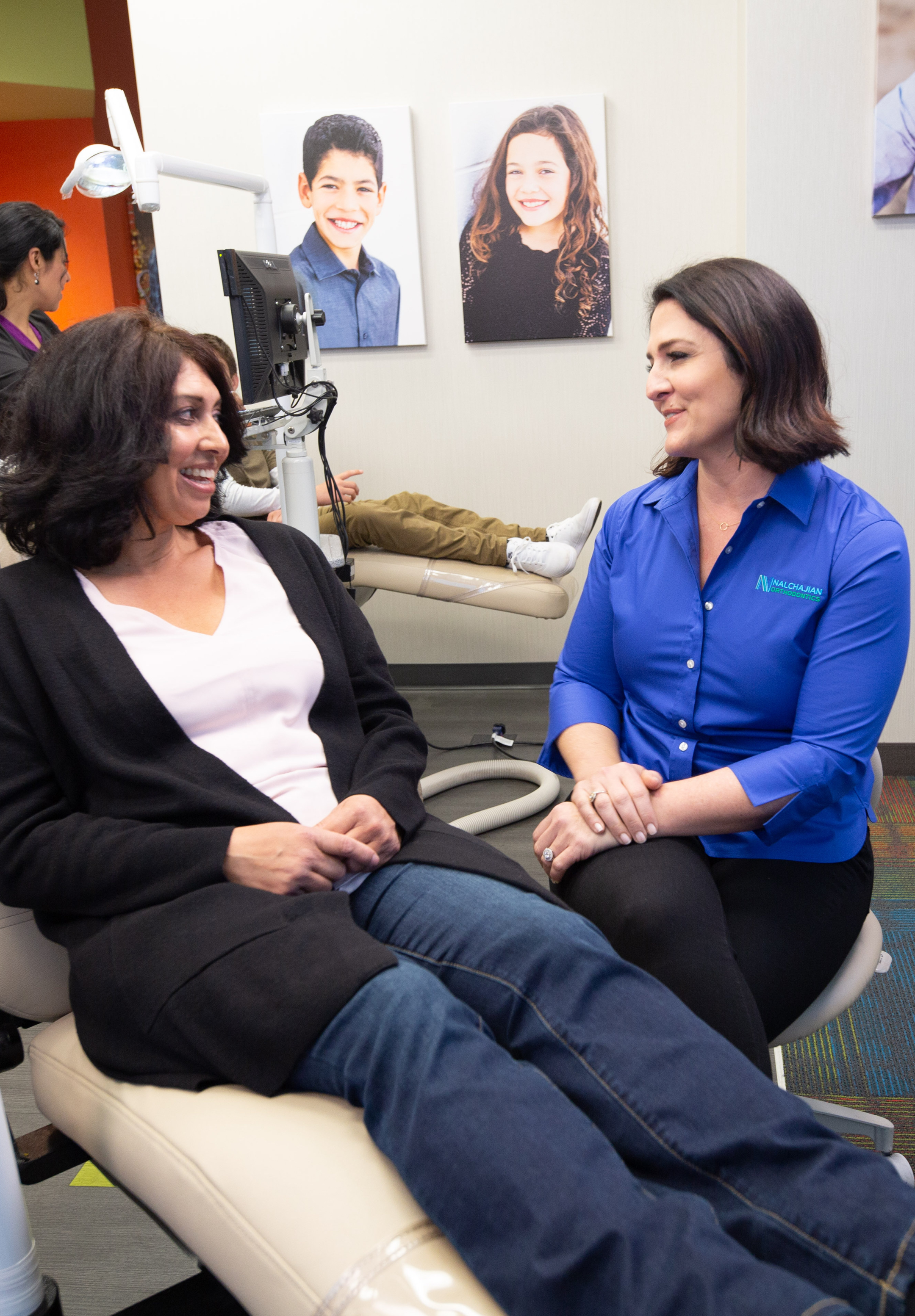 We provide outstanding orthodontic care for the whole family! Contact Nalchajian Orthodontics to learn more and to begin your orthodontic journey.